Our world is more interconnected than ever. We call it globalization, but without good histories to explain how it got that way, we cannot begin to know where we are heading.
Together with my colleagues at Columbia and allies at other institutions, I have been working to create an integrated program to promote the study of international and global history. This includes undergraduate and graduate courses, a new summer research program, MA and Ph.D. degrees, and an edited series at Columbia University Press.

The Hertog Global Strategy Initiative
The Hertog Initiative is a research program that investigates the history and future of problems in world politics that cannot be surmounted by any one state, or even an alliance of states, including nuclear proliferation, pandemics, and financial panics. Each summer, invited experts and select students gather at Columbia University for twelve weeks of intensive study, independent research, and collaborative writing. It is intended to demonstrate the potential of university programs that are purpose-built to address the most urgent problems.
The Dual Masters Program in International and World History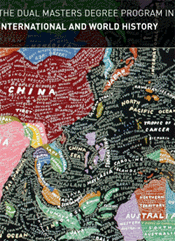 Columbia and the London School of Economics have created a "boot camp" for the next generation of global historians — and anyone else who wants to explore the origins, course, and consequences of the phenomena that are re-making our world. It is a two-year program based in New York and London, including original research, language training, and one-on-one advising, culminating in masters degrees from both institutions. The inaugural class will matriculate in fall 2008.
The Ph.D. Track in International and Global History
Columbia's Ph.D. students are pursuing a range of ambitious projects that transcend conventional area divisions. Their topics include climate change in the Ottoman Empire, sleeping sickness in British and German East Africa, and the Chinese electronics industry before and after market liberalization. "IGH" is among the most competitive programs at Columbia, with fifty or more applicants for 2-3 places each year.

Columbia Studies in International and Global History
Stirring manifestos have convinced many of the need for more international and global history, but these fields scarcely exist except as the works-in-progress of several forward-looking scholars. Together with Adam McKeown, I am editing a series to showcase the best new books that will define these emerging fields. They will address questions of concern not just to scholars, but all those interested in how history can help us understand contemporary problems, including poverty, inequality, and political violence.